Fast & Free Shipping in ANZ from Brisbane via AusPost.
---
Mighty Slim WALLET HIGHLIGHTS
Designed for mighty storage while staying surprisingly slim
Holds cards, cash, coins, business cards and receipts
Crafted from full grain pebbled leather & RFID protected
Compact luxury to organize your life—and look seamlessly sharp.
The Mighty Slim stores a mighty lot. Six quick-access card slots so you never struggle to get things done. Pull a tab and access cards you need less often. The possibilities are endless with this mighty one! Find 4 additional card slots inside and perform through your day—organized and clutter free.
Convenience and style come with security. RFID protection ensures you never lose sensitive card information to criminal skimming. This wallet for women does more than its fair share—just like you.
A press-down seal to keep every-thing snapped and secure, this slim women's wallet is a storage powerhouse for your all-important cards. Store bills flat, and keep coins secure in a zip pocket.
The Mighty Slim is a coin purse and card wallet in one.
Unisex wallet
Cash pocket to store bills
Pull tab for easy access to your stack of cards
Holds up to 16 cards
6 easy access card slots
3 hidden card pockets
Coin zip pocket
RFID protection
Premium, sustainably sourced full grain leather
30 days money back guarantee
Backed by our 2 year warranty
Dimensions:

 

Length  115mm (4.5 inches)

Width  95mm (3.7 inches)

Height  9mm (0.36 inches)

 
Materials: Sustainably Sourced Full Grain Leather
Free shipping on all orders in Australia and New Zealand, and our 30 days, no questions asked return policy.
If your wallet ever gets wet, use a clean, soft cloth to wipe off water. Avoid using heat appliances to dry your wallet. From time to time, use a leather conditioner to seal the leather to ensure longevity.
Handy tips: Do not over load your wallet as it can stress it's seams.

WHAT CAN YOU FIT?
Mighty Slim wallet fits 16 cards, 4 business cards, 6 paper bills and several coins. Over time, the natural leather softens up and adjusts. This means the capacity increases further.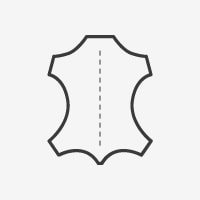 Full Grain Leather
The traditional vegetable tanned leather characterised by its soft & supple surface and natural finish.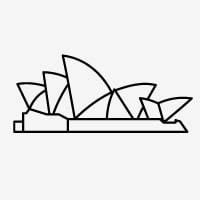 Designed in Sydney
Designed in Sydney, Australia by the Karakoram2 design team emphasising contemporary aesthetic.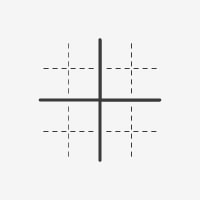 RFID Canvas Lining
Safe and secure, the RFID lining will keep your possessions protected from unwanted exposures.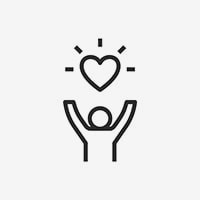 Made For Life
Resisting the throw-away is part of our philosophy. Every K2 is made to last, and made sustainably.
The Pull Tab.
Place your stack of cards in the left pocket and access them effortlessly by pulling the iconic pull tab.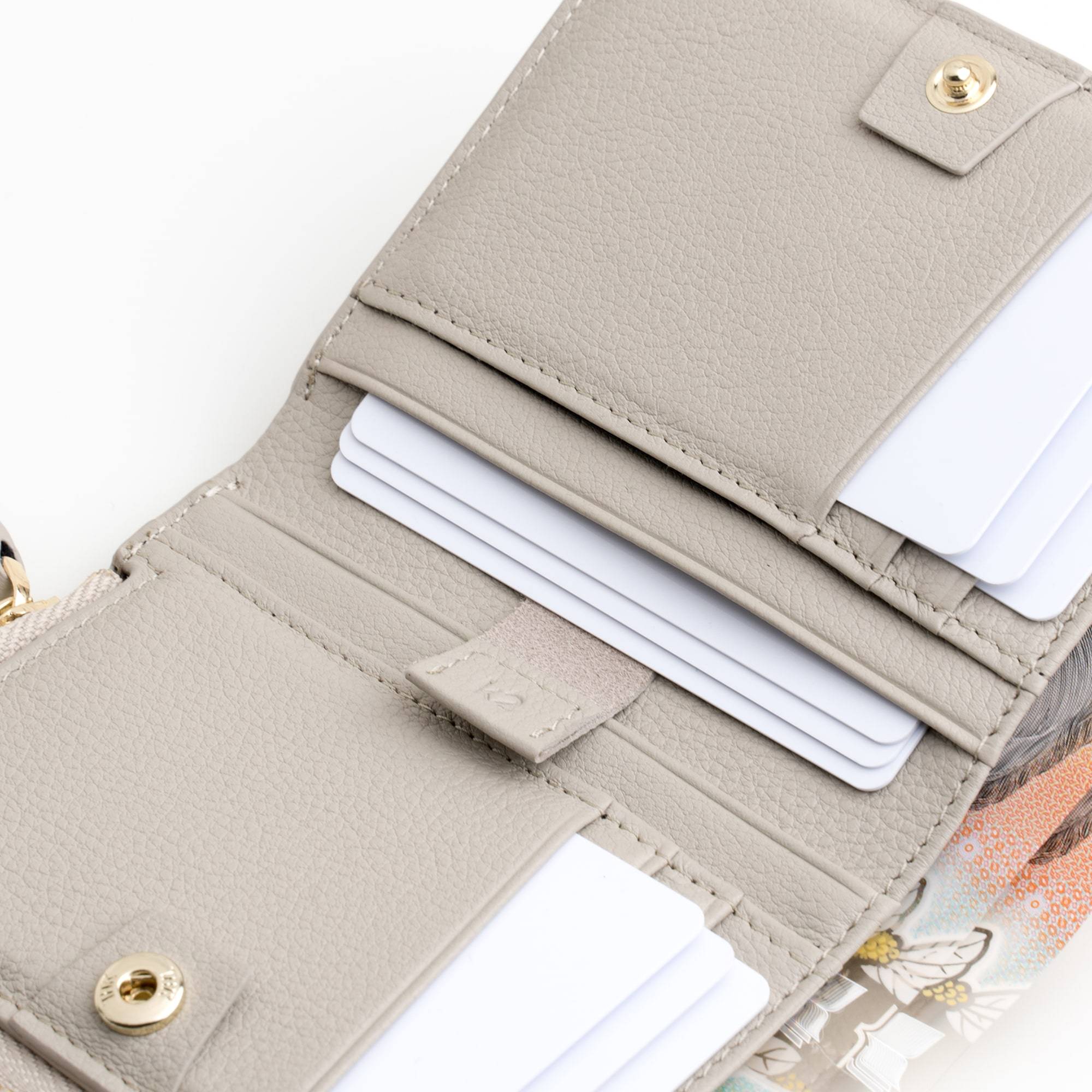 Pocket Perfect Size.
Mighty Slim is compact, durable and beautiful. Designed to fit pockets and to elevate life on the go.
Does it all.
Whether it be cash, cards, receipts, business cards or coins, you have dedicated pockets to securely store everything.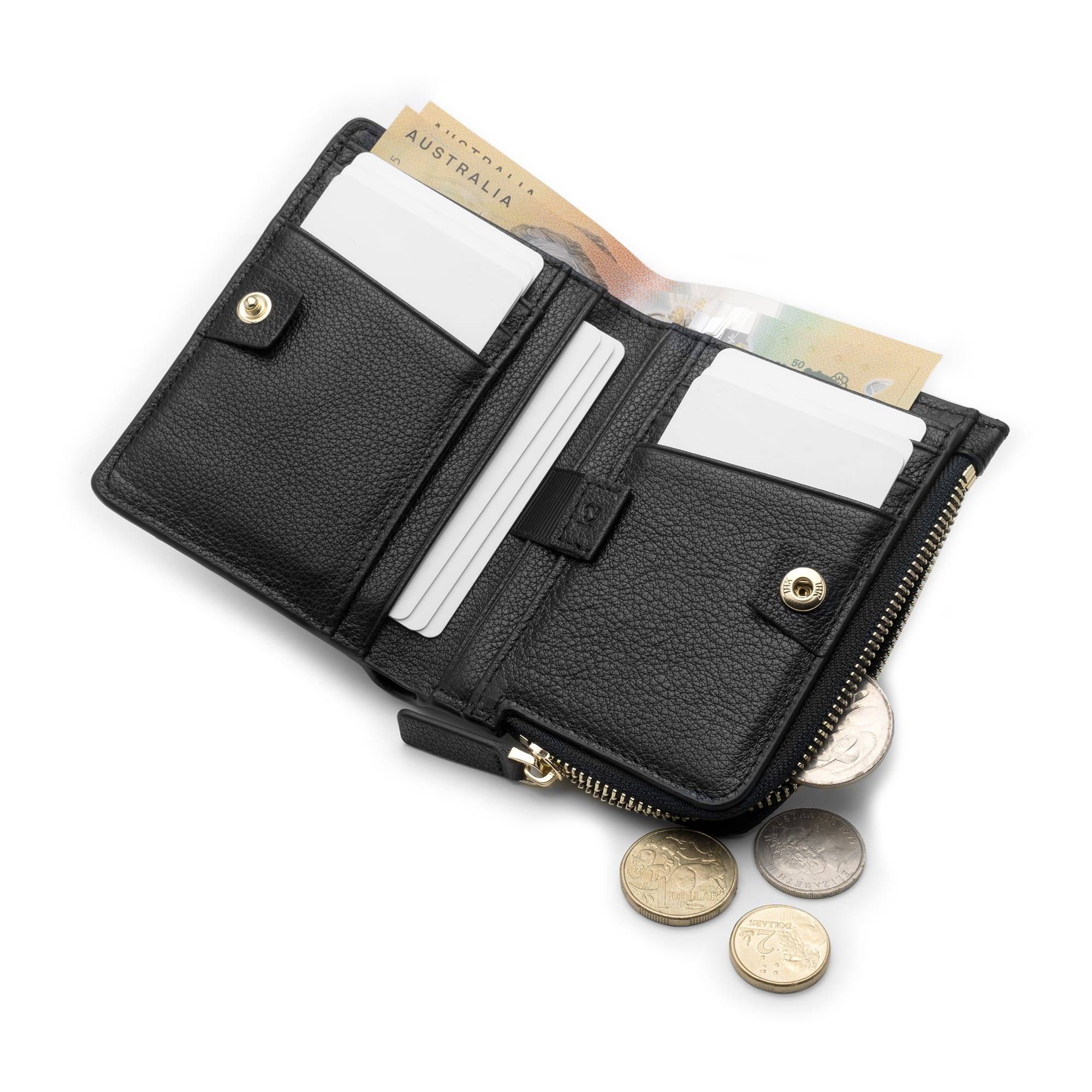 Best Slim Wallet for Women
Love the overall classy design and feel of this wallet. Cash pocket, card slots, accessible zipped coin pocket without opening the wallet, plus an RFID protection. It's the best slim wallet for me as I don't really like carrying large wallets and bags to put it inside. The vegetable tanned full grain leather wallet is the highest quality of all leathers out there and I love it! Will definitely buy then men's wallet for husband from Karakoram2.
Lovely wallet
Slim, elegant and practical
Perfect size!
The Mighty Slim is perfect for my needs. It has replaced a purse (wallet) about four times its size. I was carrying around cards I wasn't using, now I have all I need with me. There is now room for me to carry other essentials in my bag (glasses!). Beautiful quality, too.
Truly Mighty
Have been using for a few weeks and whilst I probably have way too many cards, and have difficulty getting some out (my fault 100%) somehow the wallet is still remarkably flat and fits in the front pocket of my jeans nicely. Will definitely purchase again for myself or as a gift for other women in my life.
Mighty Slim
Couldn't be happier with my purchase. Perfect size and I love the design!
Best wallet ever
Wasn't sure what to expect from this beautiful little wallet but it has exceeded my expectations with its quality and uniqueness. Am floored by the amount of money and cards I can put it it. I absolutely adore this wallet and I am extremely happy that it fits in my bag without weighing it down. Best wallet ever. Also appreciate the support and follow up offered by the care team.
Slim wallet
Very happy with this product, soft and easy to access cards.
Just what I wanted.
I've been using the slimline wallet for several weeks now, and its exactly what I wanted. It holds everything I need, so can use it every day regardless of whether I'm carrying a handbag or not. It fits in pants or jacket pocket, if I'm not taking a handbag.
My mighty slim wallet
My new wallet arrived promptly and beautifully packaged. It is proving to be an excellent buy...compact and holding all that the cards and other items I require.