Fast & Free Shipping in ANZ from Brisbane via AusPost.
---
Glorious WALLET HIGHLIGHTS
Elegant wristlet wallet made from premium leather
Holds Smartphone, cards, cash, coins and much more
Hidden pockets and RFID protection offers extra security
The Glorious does it all—just like you do.
Crafted out of sustainably-sourced full-grain leather, this ladies' wallet is buttery soft on the outside, and a hardcore performer on the inside.
With 8 quick-access card slots and 4 discreet card slots, this zip-around wallet has your back. A secure and deep slot holds your smartphone and your passport, so you'll never fumble with multiple organizers and wallets. Simplifying your fast-paced life, The Glorious is designed to be your most trusted assistant.
It comes with a wristlet—a women's wallet that knows exactly what you need. A travel wallet and purse in one, it keeps your hands free to take on the world! You also get a slot to carry your extra phone sim while travelling.
What's better? RFID protection ensures your sensitive card information doesn't get skimmed and stolen.
A sleek travel wallet and RFID wallet in one—The Glorious is a faultless multitasker.
Free shipping on all orders in Australia and New Zealand, and our 30 days, no questions asked return policy.
If your wallet ever gets wet, use a clean, soft cloth to wipe off water. Avoid using heat appliances to dry your wallet. From time to time, use a leather conditioner to seal the leather to ensure longevity.
Handy tips: Do not over load your wallet as it can stress it's seams.

KEY FEATURES:
Holds 12 - 16+ cards

 

: 

Never run out of space

Phone pocket designed to hold large phones i.e. iPhone Pro Max
Primary and hidden cash pockets

 

: 

Your choice

8 card slots for easy access : 

Quick and easy

4 hidden card slots : 

Security and privacy

Coin zip pocket

 

: 

No risk of it all falling out

Sim card and pin storage :

Ideal for travel

Detachable wristlet

 

: 

Go hands-free

RFID protected

 

: 

Shields you from skimmers

Premium, sustainably sourced full grain leather
30 days money back guarantee

 

: 

Risk free

Backed by our 2 year warranty
SPECIFICATIONS:
Length  200mm (7.9 inches)
Width  105mm (4.1 inches)
Height  20mm  (0.80 inches)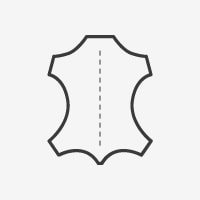 Full Grain Leather
The traditional vegetable tanned leather characterised by its soft & supple surface and natural finish.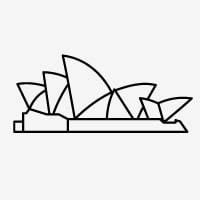 Designed in Sydney
Designed in Sydney, Australia by the Karakoram2 design team emphasising contemporary aesthetic.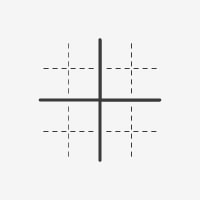 RFID Canvas Lining
Safe and secure, the RFID lining will keep your possessions protected from unwanted exposures.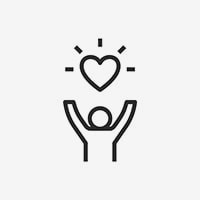 Made For Life
Resisting the throw-away is part of our philosophy. Every K2 is made to last, and made sustainably.
Slim and Elegant.
Designed for the days when everything needs to fit. Glorious comfortably holds your phone, up to 16 cards, cash, coins, sim cards and much more. All in a cleverly designed, intuitive package.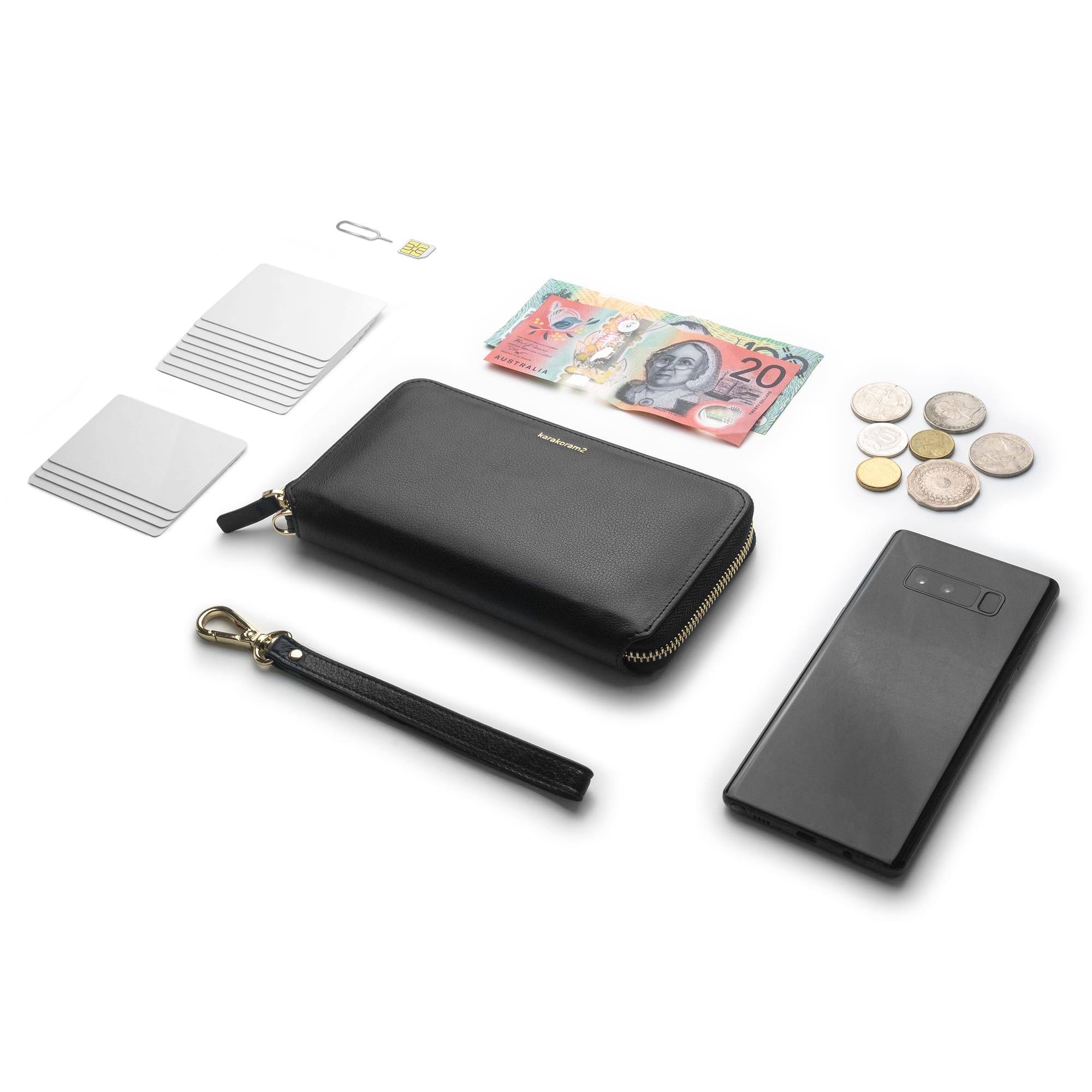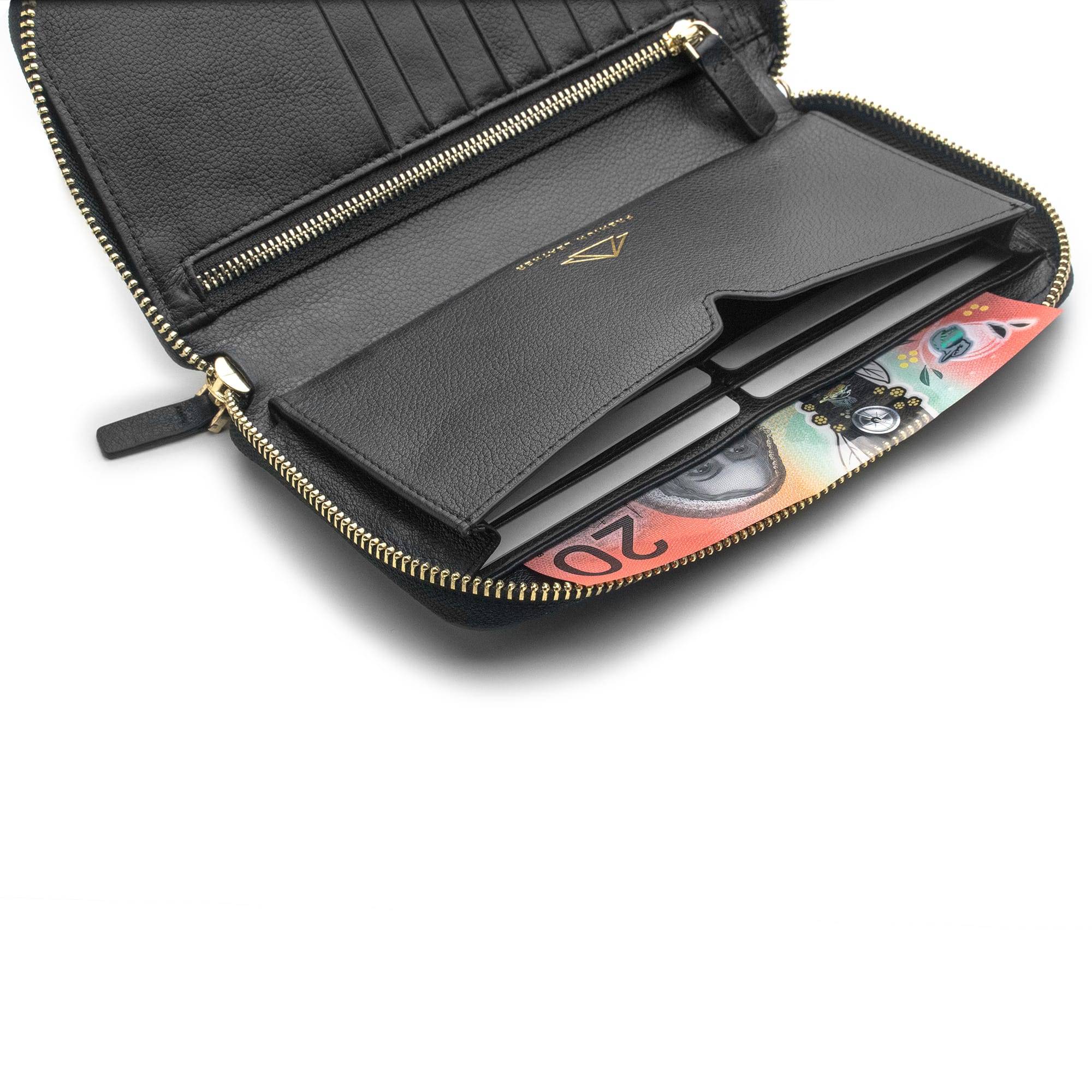 Hidden Slots, Privacy First.
Keep your precious cards and cash nicely tucked away from plain sight.
Visible Slots, Easy Access.
Never again spend time shuffling your wallet trying to find what you wanted. With 8 quick access card slots, cash and coin pockets, everything you need is just one unzip away.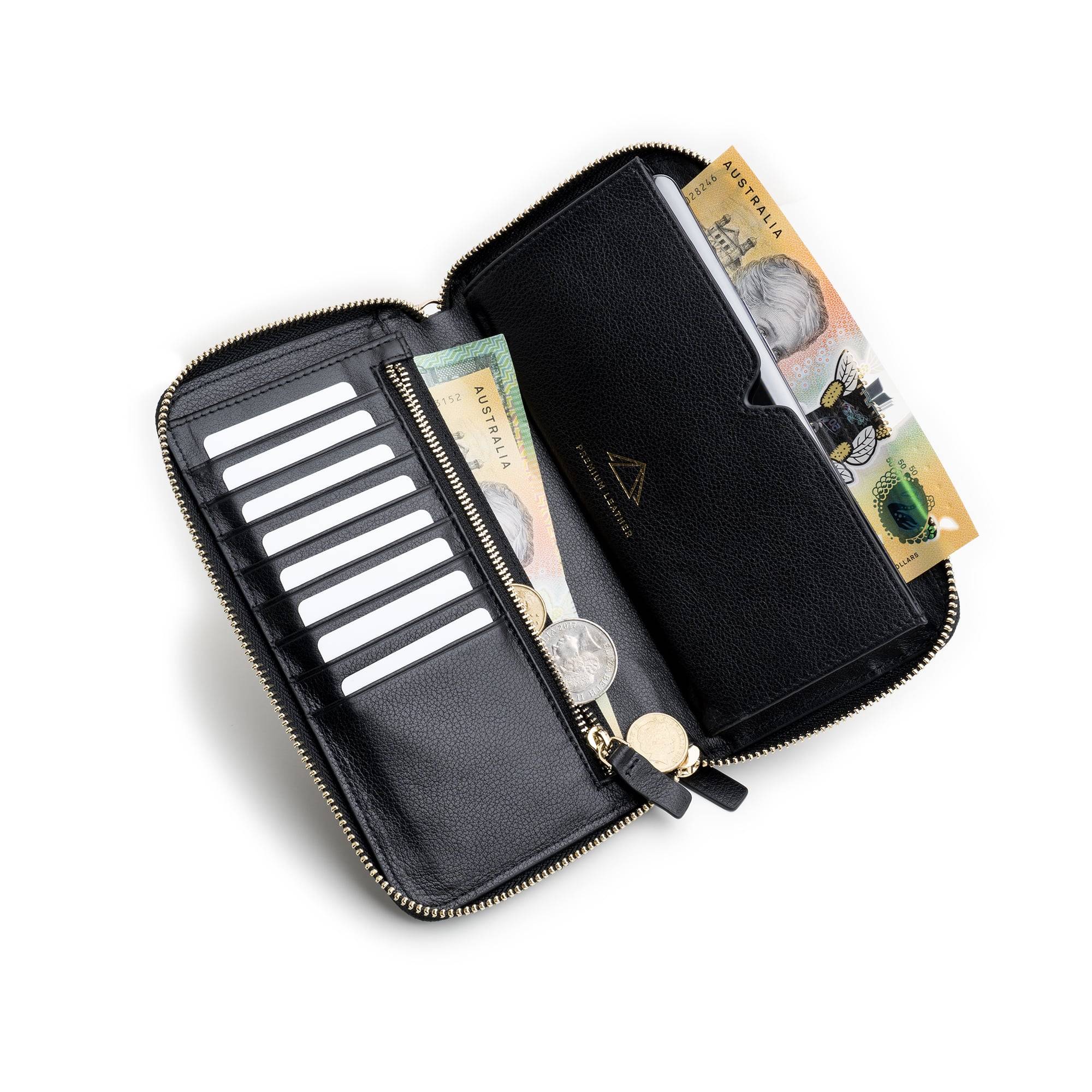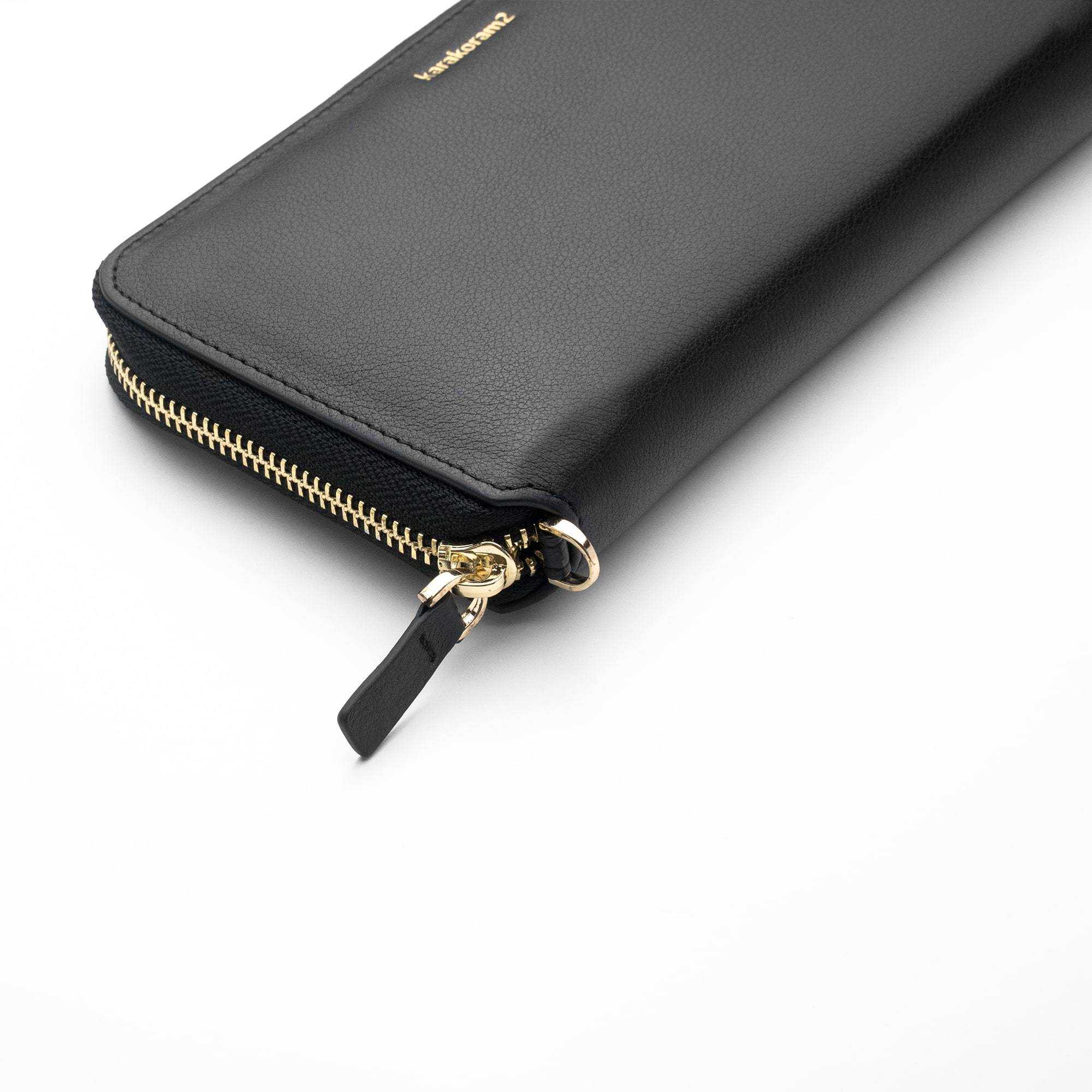 Security.
The zip around design keeps your items from falling out while the RFID lining keeps you secure from skimmers.
Effortless Carrying.
Go hands free with the soft leather wristlet. So that you can hold your coffee in one hand and your laptop in an another.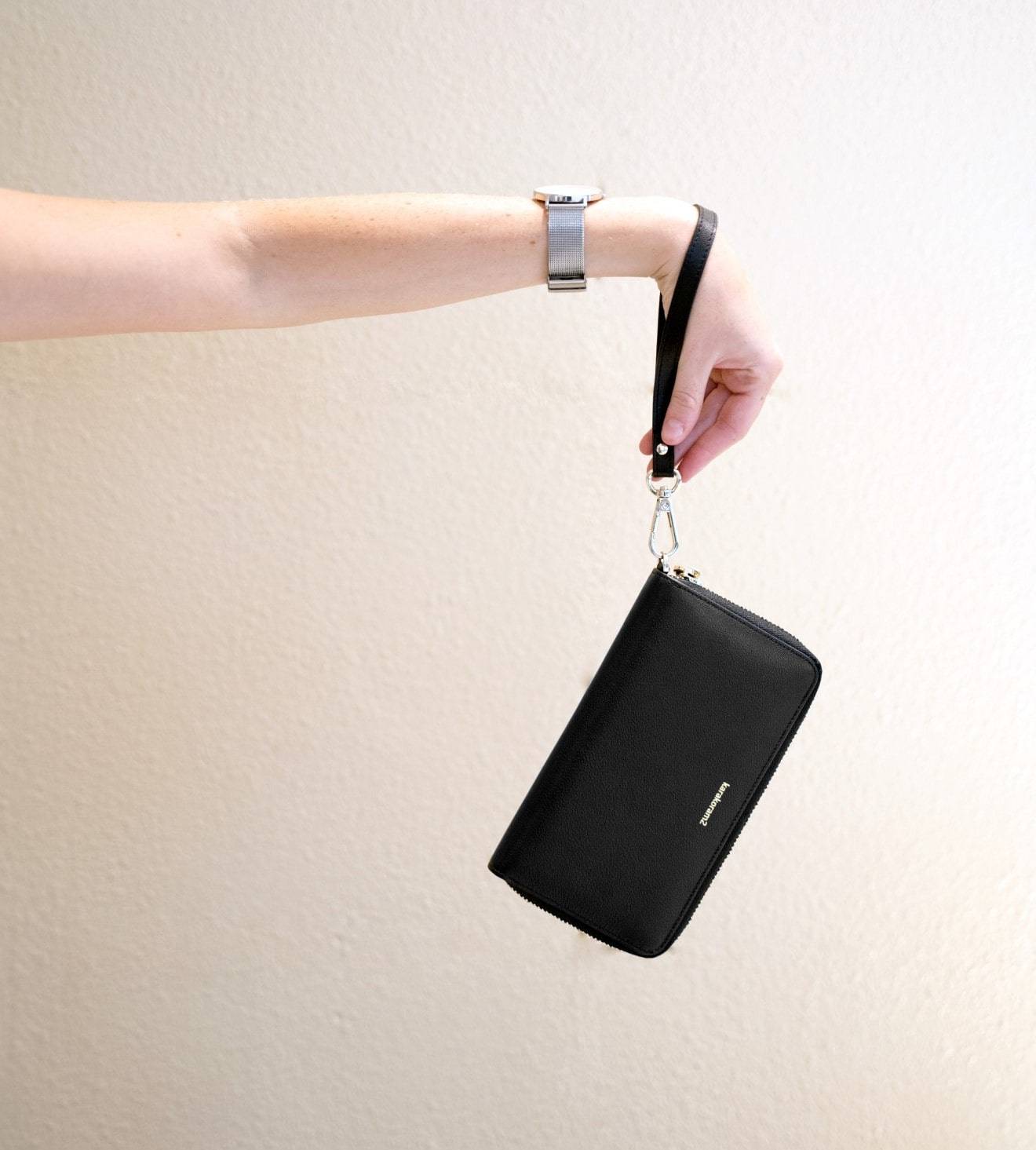 Very nice and well thought out product.
It seems to be very well made and is fit for purpose.
Very Pleased!
A gift for my wife. She is very pleased with it – the quality, design and features are all outstanding.
Classy Clutch
Excellent quality leather Clutch, well made zipper and comfortable wrist strap- This classy Clutch has organised me, eased juggling of items, and means I can be "hands-free" in an instant. If you make more colours, I will buy some more !
Simplistic and chic
Great design, premium leather and love the simplicity
Great wallet. I even have my $750 coronavirus stimulus money from uncle Scotty to put in it. But seriously guys, don't touch your face and don't touch your super!
What a pretty little purse and it delivered even more than just good looks. It has lots of card space a zipper section for coins and a few more sections for cash notes and tickets and receipts.
I always have my hands full and having my a wrist strap is very handy for me. I looked for this feature on many other ladies wallets to no avail. With all these features you would think that it is a bulky wallet. Not so, as it very compact and feels nice to hold. Price is very competitive too.
Great products
Extremely good products. Well made and delivered in 5 days! Perfect!!
This wallet ticks all boxes, I did quite a bit of research before buying. It has a sim card and pin slot (I have lost quite a few sim cards on my business trips), holds my passport, phone, cards, coins and has a wristlet. Love it.